Idel Suzumura


Information
Name
Idel Suzumura
Rose Colour
Orange
Disguise
Pop Idol of Rhodecia
Rose Title
Ex-Artificial Orange Rose Rhode Knight

Orange Rose Rhode Knight

Magic Attribute
Sound (Removed; later revived)
Gender
Male
Birthday
April 4th (Aries)
Hair Colour
Orange
Eye Colour
Apple Green
Blood Group
B
Height
171 cm
(5'6")
Weight
56 kg
(123.5 lbs)
Manga Debut
Punishment 14
Idel Suzumura
is a pop idol of the group Rhodecia, together with
Yakoh Hasuzaki
. Their group is popular among high school girls, with their songs topping popularity contests. He was enrolled to Anis's school to help
Schwartz
check for her choker.
As the Rose Rhode Knight
Edit
He becomes temporary a Rose Rhode Knight in order to save Yakoh Hasuzaki. He also uses ten times more blood of Anis than the other Rose Rhode Knights.
Appearance
Edit
Idel has messy Vermillion-coloured hair and golden eyes.
Personality
Edit
Idel is the opposite of Yakoh. He is extremely chatty and isn't afraid on voicing out his opinions.
Storyline
Edit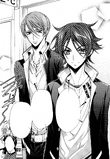 Idel appears shadowed as the person who attacked Kaede at the 50
m sprint race. He almost got caught by Kaede but managed to fend himself off and escaping before Mutsuki could locate him too.
Idel becomes a full-fledged but temporary Rose Rhode Knight when Anis gets moved by his story. He gets a shock, so does everyone, but Anis compliments him, saying that he is worth of this title. As such, an Orange Rose Card was created for Anis to call him out and when she did, he appeared in his current clothes with an Orange Rose pinned on his clothes.
His hobby is games.
He dislikes shitake mushrooms.