So yeah, this is the second Barajou No Kiss blog.I wanted to show and tell people something interesting in Punishment 36. It's about Mutsuki and Yocteau. Also about Schwartz. This is a 3 spoiler warning page...
Spoiler warning!
This article contains plot details about an upcoming chapter.
THIS IS A SPOILER! DON'T SCROLL DOWN ANYMORE!
SPOILER ALERT!!! READ AT YOUR OWN RISK!!!
ok so I don't read japanese, but I do look at the pictures, haha. Anyways, I also saved the pictures and the author of the picture wrote what was happening (good thing). So here are the picture.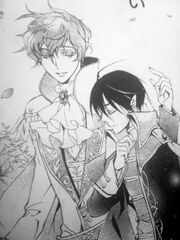 P.S This picture was title by the author as 'bro', but i changed it to "Brothers Mutsuki and Yocteau"
Does anyone wonder how tall was Yocteau? I mean seriously how tall was he? Mutsuki is 6'½", so how tall was he? But I like this because of the brotherly bond.

I will share the link: Brothers Link
The second picture I wanted to share is: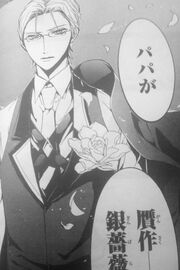 P.S This picture was title by the author as silverrose, but i changed it to "Silver Rose Schwartz"
P.S.S When i uploaded his profile picture I didn't know he was a silver rose...
Is anyone shocked?! I am... I didn't expected though... So why does he hate the Rose Rhode Knights? I can't wait until the tranlated. The sad part of it is that it will probably be translate sometime like April if Turtle Paradise does one this month. I was sad when they didn't do one on September, anyone else felt the same way?
I will share the link: Silver Rose Link
Want to see the rest of the preview? Here it is: Preview Link
To view the pictures just click on the cover and numbers. The pictures were 5 (brothers) and 7 (Schwartz).
It was also where I got the raw cover for Punishment 36.
Please Comment, I want to hear what you have to say about it.